Supervisorial District Located
Fourth
Historical & Cultural Context
Arts Integration Subjects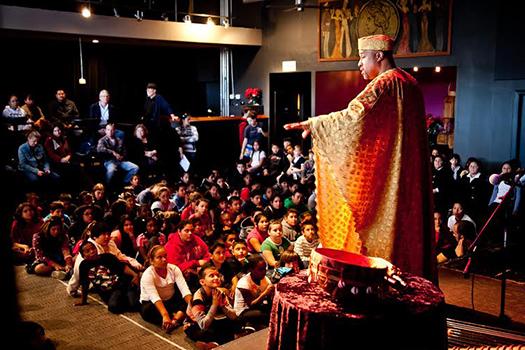 About:
Grand Vision Foundation is a non-profit arts organization that serves the Los Angeles Harbor Area community through arts presentation and education. We were established in 1996 to save the Warner Grand, a 1,500 seat art deco movie palace located in downtown San Pedro. We encouraged the City of Los Angeles to purchase the Theatre and with community support, restored it to a viable standard for productions. Today, we remain the official City Friends Group to the theater, providing marketing support and advocacy for the historic building.
We have moved forward artistically and educationally. In 2008 we converted an adjacent storefront into our own performance and live music venue, the Grand Annex where we present live innovative world, roots, Latin, jazz, and Americana concerts serving a total audience of about 8,000 annually. In 2009, we created Meet the Music (MTM), our flagship education program for underserved public school students. MTM targets eight partner Title I schools that receive federal funds to close the achievement gap for low income children in the Harbor area, creating equitable access to high quality, sequential music education opportunities.
MTM is an in-school curriculum for 4th and 5th graders that teaches students the fundamentals of music and how to read music and play the recorder. Students also experience at least three live music educational concerts at the Grand Annex and an annual introduction to opera by the LA Opera, at the Warner Grand Theatre. Each year MTM serves 1,500 students.
Student Programming:
Through standards based music instruction and participatory concert experiences, Grand Vision Foundation's Meet the Music (MTM) opens the gateway to music education for students in the LA Harbor community and surrounding areas, building skills for musical and academic success beyond elementary school. Meet the Music programs create equitable access to music education and increase students' cultural literacy, in partnership with public schools that lack consistent music education.
Roots of Music Program (RoMP) is a ten-lesson (semester long) cumulative curriculum for fourth graders, aligned with national and state standards, that introduces foundational music concepts and world music genres through three units: Rhythm, Pitch and Dynamics. Each of RoMP's three units has three lessons: an in-school pre-concert lesson with a trained teaching artist, an interactive world music concert with a professional world music ensemble, and an in-school post-concert lesson. The program culminates with a student performance of international songs learned in the program. MTM currently serves over 800 students annually.
Recorders in Schools is a year-long program for fifth graders, which integrates standards-based weekly music lessons with teacher-led group practice and performance. In partnership with classroom teachers, highly qualified teaching artists lead students in 24 sequential weekly classes in music notation, recorder playing technique and ensemble performance, culminating in recital performances at school. MTM currently serves 600 students in 20 fifth grade classrooms across six schools.
All MTM programs are enhanced with professional development opportunities for classroom teachers, training them in program curriculum and arts integration strategies. Comprehensive student and teacher workbooks which include arts integration activities for the classroom and program materials are provided.