If young people are to contribute to LA County's creative economy, they must have access to information and learning opportunities that prepare them for success in creative careers.
Background
Los Angeles is often seen as synonymous with Hollywood. In fact, the creative industries, made up in large part by Hollywood, generate 21% of the jobs in LA County, according to the 2022 Otis College Report on the Creative Economy. More importantly, the creative industries include more than film and television, offering a number of career options across multiple industries. In order to develop the wide range of skills that lead to these jobs and careers, youth in LA County need access to information, learning, opportunities, and support systems that shatter current barriers to entry.
Mission
Identify, align and leverage resources for providing youth, ages 14-24 years old, with concrete entry points into the creative workforce.
LA County Policies Driving This Work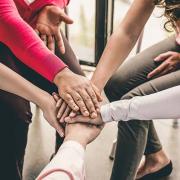 Join The Movement
Share information about your interest or work in building creative career pathways for youth. This data will be compiled, added to a growing list of stakeholders, advocates, programs and services within LA County, and shared broadly to align efforts across the region.