Supervisorial District Located
Fifth
Historical & Cultural Context
Arts Integration Subjects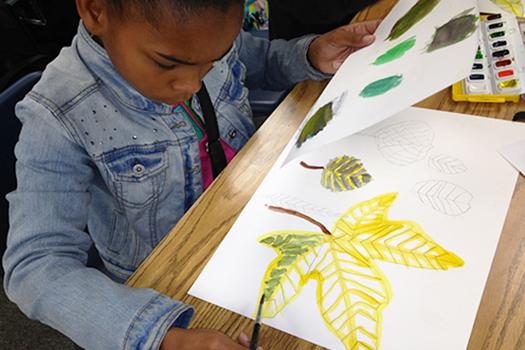 About:
The Armory Center for the Arts builds on the power of art to transform lives and communities through creating, teaching, and presenting the arts. At the core of the Armory's work is a deep commitment to social justice through arts education. A key goal of the Armory's mission is to provide engaging, high-quality art classes and art experiences in the region's lowest income neighborhoods in order to advance cultural equity. Over 80% of programming serves socioeconomically disadvantaged youth and families.
A pioneer in the field of community arts education, the Armory offers artist-taught classes for children, teens, families and adults, as well as a respected exhibitions program. The organization formed in 1989 when the Pasadena Art Workshops (the former education department of the Pasadena Art Museum) merged with Pasadena Gallery of Contemporary Art (formerly the Baxter Art Gallery at California Institute of Technology). Deeply committed to public access, education, and outreach programs, the Armory presents contemporary art exhibitions, performances, and educational experiences at its main facility and at satellite locations throughout Pasadena and Los Angeles.
Armory programming includes: free year-round community arts programs, serving 6,500 people annually; in-school artist residencies and a gallery fieldtrip program, serving 4,500 students annually; studio programs offering visual and media arts classes for all ages, serving 3,700 people annually; professional development training for teaching artists and public school teachers; and contemporary visual art exhibitions and performance based work.
Arts education programs provide in-depth, sequential learning opportunities to over 18,000 individuals each year: over 93% are children and teens, and 80% are socioeconomically disadvantaged. Armory exhibitions and public programs reach an additional 20,000 individuals per year.
Student Programming:
The Armory's school-based artist residencies deliver exemplary visual arts education programs that support cross-curricular learning, targeting underachieving students at Title I schools. Each year, 2,500 students receive in-class instruction and 2,000 students participate in the Armory's gallery fieldtrip program. Student programs include:
Artful Connections with Math provides visual arts integration with the common core math standards for students in grades 2-5. This initiative demonstrates the unique and vital role that the arts play in student learning (cognitive, creative, divergent, interdisciplinary) across the curriculum. In addition to meeting the visual art standards, curriculum also aligns with the Common Core math standards and strategically integrates English language arts common core standards. The program also empowers students to build core competency in 21st century skills.
Artful Connections with Science is an Armory designed visual arts-science integrated program for the 4th and 5th grade. The program is delivered by Armory Teaching Artists and was formally evaluated by The Research Group from UC Berkeley's Lawrence Hall of Science in 2014-15. Artful Connections with Science aligns with the newly adopted Next Generation Science Standards and builds off of the success of Children Investigate the Environment, a visual art-science integrated program that has been implemented in the Pasadena Unified School District since 1989 and served over 20,000 Title I 4th grade students to date.
Armory gallery fieldtrips include a guided exhibition tour in which students engage in small group activities, art exercises, and discussions about the exhibition's themes. Students then create an art project in the Armory studio. Working in mediums like clay, painting, sculpture, printmaking, or bookmaking, this standards-based experience encourages students to explore the artistic process.
Professional Development:
The Armory is a leader in the field of arts education, with nationally recognized professional development programs providing instruction and hands-on experience in arts education techniques to artists, classroom teachers, and arts administrators. Professional development programs include:
Armory Teaching Artist Fellowship Program – provides a nine-month intensive program for MFA candidates and graduates who are practicing artists to be trained as educators. The fellowship program provides mentored teacher training and a focus on arts education methodology, VAPA content standards, and curriculum and lesson plan development.
Artist Teacher Collaborative (ATC) – trains multi-subject elementary school teachers, under the guidance of Armory Teaching Artists, to successfully deliver a standards-based arts education curriculum integrated with language arts to varied student populations. ATC went on to be selected by the U.S. Department of Education as a professional development model, receiving three years of funding to train over 90 elementary school teachers at Title I schools.
Artful Connections with Math and Artful Connections with Science, Armory-designed visual arts integrated programs for elementary school student that serve as professional development models providing training for multi-subject classroom teachers in visual arts integration strategies.
Ongoing training for faculty and staff in trauma informed care and social emotional learning.