Supervisorial District Located
Second
Historical & Cultural Context
Arts Integration Subjects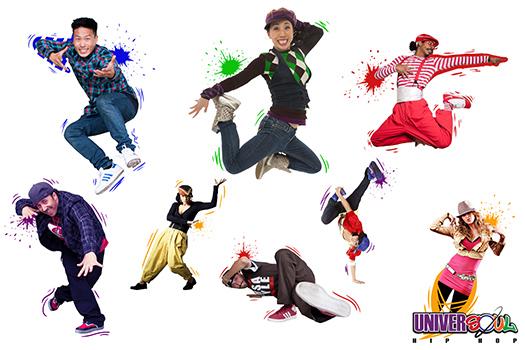 About:
UniverSOUL Hip Hop, LLC is a K-12 cultural educational group of international, award-winning artists and educators. We artfully blend the creativity of Hip Hop with the rigor of standards-based pedagogy and practices to provide cutting edge, interdisciplinary dance programs that cultivate lifelong learning, social fellowship, and 21st century success.
Founder and Executive Director - Tiffany Bong, is a Hip Hop dance lecturer for the Glorya Kaufman School of Dance at University of Southern California, a master teaching artist for The Music Center, and an arts education specialist, presenter and grant panelist. The organizational team consists of 12 dance educators that hold an array of artistic accomplishments, which include world championship titles and recurring television appearances, as well as teaching experience in special education, English language development, and common core and arts integration.
UniverSOUL Hip Hop shares each school and district's mission of ensuring that quality and equitable arts learning is at the core of each child's education. Since its debut in 2012, our dance residency and assembly programs have tripled in school sites and the demand for this program continues to spread across school networks. The key to this growth is our team's commitment to building longstanding partnerships and effective, accessible programs that serve the diverse learning needs and creative vibrancy of our communities.
Created by inner-city youth, Hip Hop reflects and celebrates the cultural diversity and powerful narratives embedded in the rich landscape and legacy of Los Angeles. This multicultural, multilingual dance practice serves as an inclusive, relevant, and empowering tool for young minds to develop a sense of heritage, confidence, self-mastery, innovation, service, and global citizenship.
Student Programming:
We offer the following dance programs:
1. ARTIST RESIDENCIES: Experienced teaching artists deliver robust, standards-based curricula that integrate the 21st century "Four C's" skills (Communication, Critical Thinking, Creativity, Collaboration), Common Core practices, and classroom studies.
Through collaborative tasks and group learning, students are challenged to develop the social-emotional character and practical skills needed to create, critique, practice and perform dance in an upbeat, structured, and supportive setting. New content is presented in each lesson, which scaffolds into the creation of original dance works. Residencies culminate in an interactive, student performance with family and friends.
Model residencies include the following (flexible to school needs): Planning & Evaluation Meeting 10 Sequential, Student Sessions Student Culmination & Presentation Student Reflection Assembly Performance Professional Development for Staff
2. WORKSHOPS & FAMILY NIGHTS: Workshops are a 60-minute introductory discovery into the rich artistry and relevance of Hip Hop dance. Participants learn the foundation of classic Hip Hop dance styles in a supportive and vibrant environment.
3. ASSEMBLY PERFORMANCE: In our power-packed assembly - Spirit of Hip Hop, 5 internationally acclaimed Hip Hop dancers unite together to perform show-stopping movements that inspire students to find the courage and commitment to embrace one's passions. Students learn and practice movement vocabulary along the way and learn the personal stories and American landmarks that influenced Hip Hop. The performance ends an exciting student freestyle dance contest and open Q&A about themes such as: self-expression, diversity, equality, careers, citizenship, wellness, and service.