[Please Note: This opportunity is now closed. This page is being maintained for archival purposes only.]
About the Program
The LA County Arts Ed Collective is excited to offer "The Art of Leadership: From Individual Voice to Collective Impact," a Theory U-based leadership development intensive for arts education leaders of all levels who are interested in and/or are already working to advance systems change in arts education.
This multi-session program (5 days spread over 3 months) will focus on individual leadership development as the foundation for collective impact on arts education in LA County. The series offers participants the opportunity to grow their personal leadership capacities and skills; develop and deepen a network of colleagues based on trust and collaboration; work with a diverse cadre of arts education leaders from across the County and align their efforts with broader regional and/or statewide initiatives.
This approach to leadership development asks participants to step outside of their comfort zones to explore new ways of thinking and being - both as a human being and as an agent of systemic transformation in arts education. The series incorporates principles and practices of Theory U, an awareness-based framework for innovation and social change. The Theory U principles and practices explored in this series include:
The Power of Listening and Conversation
Developing Three (Inner) Instruments: Open Heart, Open Mind, Open Will
Accessing and Bringing Forth one's Authentic Self
Overcoming barriers in One's Inner Work
Participants will:
Participate in mindfulness, journaling, interactive presentations, experiential learning, case clinics, and embodiment practices.
Develop personal leadership through practices that cultivate calm, observation, and focus.
Explore personal blindspots, expand awareness, transcend ineffective behavior patterns, and enable transformation.
Ideate, experiment with, and amplify innovative approaches for increasing equity and access to arts education across the County.
Connect to the deeper journey of their personal and professional lives in order to become more effective leaders and change-makers.
Selection for Participation
The 2020 Art of Leadership cohort will reflect the breadth and diversity of professionals in the arts education field, including: advocates, artists, classroom teachers, school district administrators, staff from community-based organizations teaching artists, and many others. We are especially looking for arts educators who focus on serving youth from historically under-resourced communities.
We are looking to convene a cohort of leaders who are:
In varying stages of their careers, ranging from emerging practitioners seeking to develop their distinct leadership voice, to established professionals seeking to refine and/or renew their approach.
Representative of the geographic breadth of Los Angeles County.
Working in varying contexts, including schools, community spaces, public housing sites, parks, juvenile detention centers, and others.
Working in or with institutions of varying sizes, from large non-profit and government organizations to small and/or fiscally sponsored organizations or collectives; as well as independent teaching artists.
Participants MUST Commit to:
Participate in an interview with Art of Leadership facilitators (to be scheduled upon acceptance in the program)
Attend and participate in ALL scheduled sessions
Complete individual and collaborative activities between sessions
Apply
Space is limited. Application due by 11:59PM on Wednesday,January 08, 2020
Wednesday, November 20, 2019
Application Period Opens
Wednesday, January 8, 2020
Application Period Closes
Wednesday, March 25, 2020
6:00PM - 9:00PM
Opening Dinner
Thursday, March 26 - Friday, March 27, 2020
8:30AM-5:00PM
Sessions 1 and 2: Seeing the System And My Role in It
Friday, April 17, 2020
8:30AM-5:00PM
Session 3: My Leadership Edge and the Field of the Future
Thursday, May 7-Friday, May 8, 2020
8:30AM-5:00PM
Sessions 4 and 5: Bringing it Back Home - Applying Listening, Conversation, Feedback
Friday, May 8, 2020
6:00PM-9:00PM
Closing Dinner
Event Logistics
Opening Reception Location: La Plaza de Cultura y Artes
501 N Main Street
Los Angeles, CA 90012
Session Location: All sessions will take place at Plaza de la Raza in Los Angeles, CA.
Plaza de la Raza
Cultural Center for the Arts & Education
3540 North Mission Road
Los Angeles, CA 90031
Select Images From 2019 Art of Leadership Cohort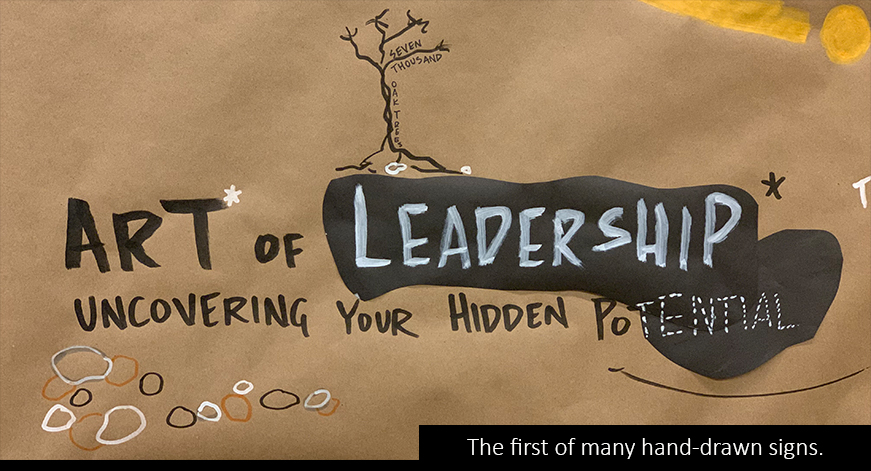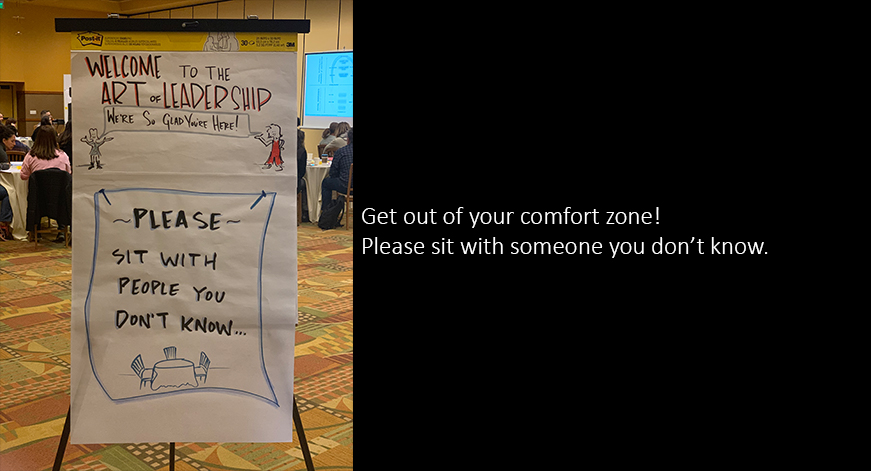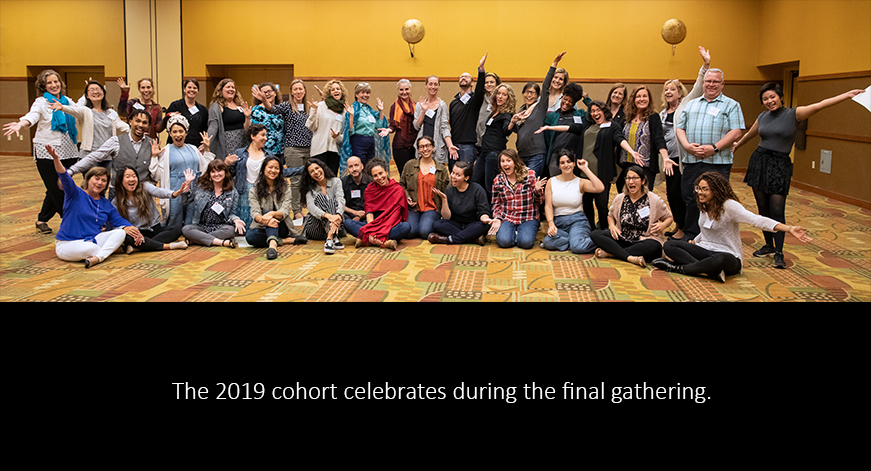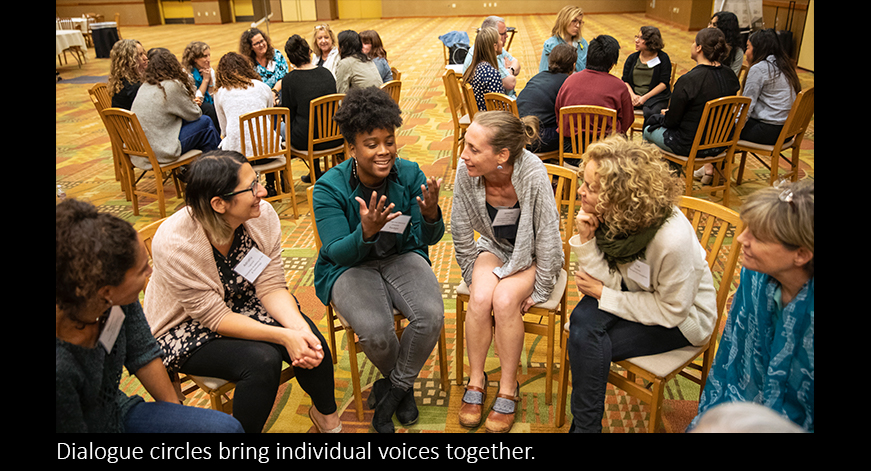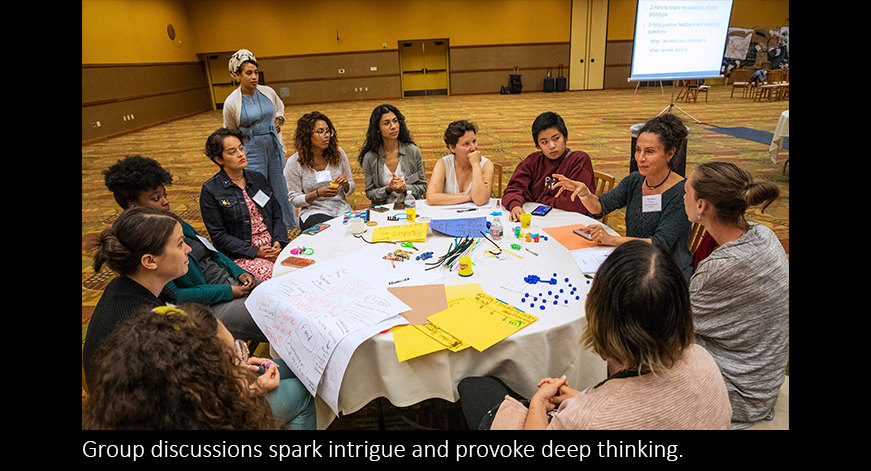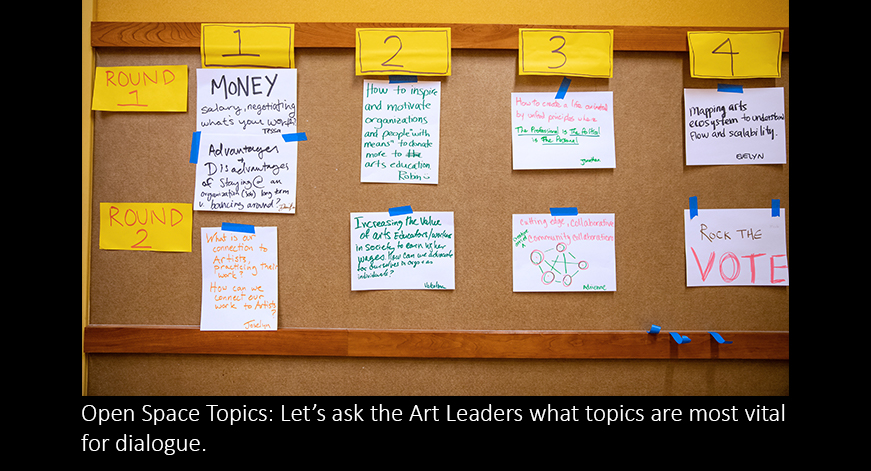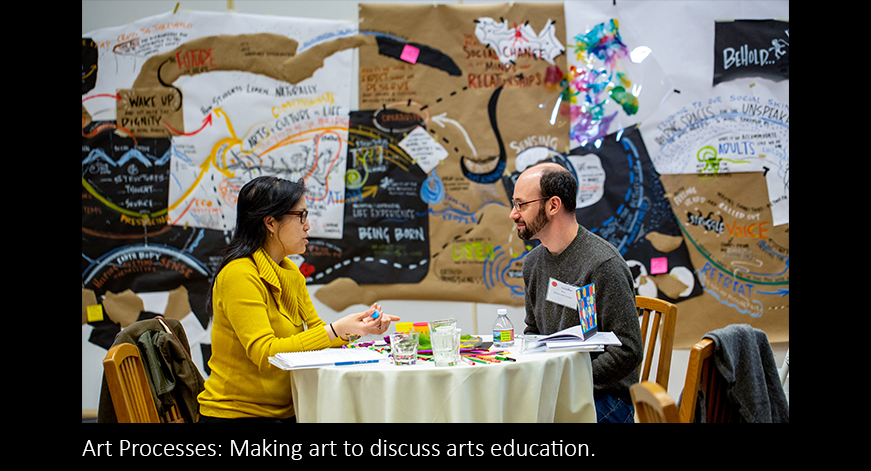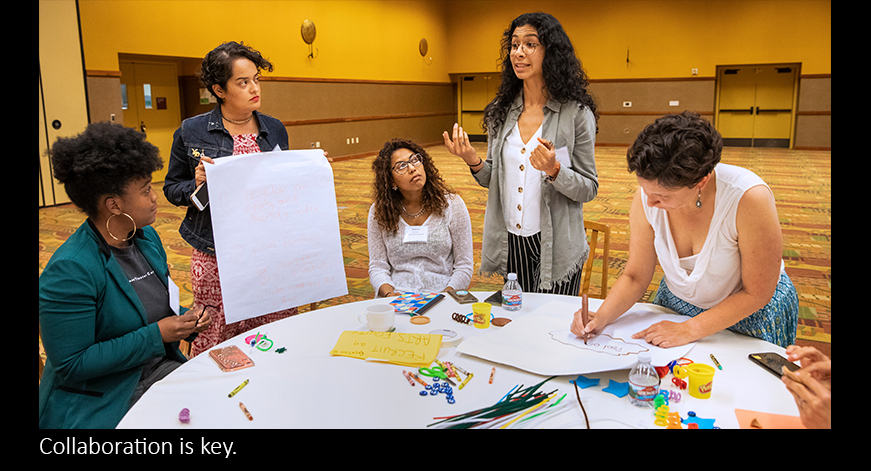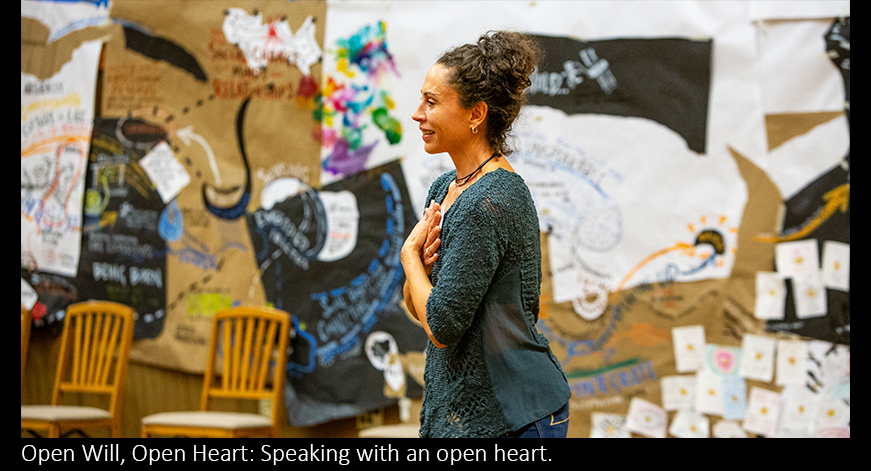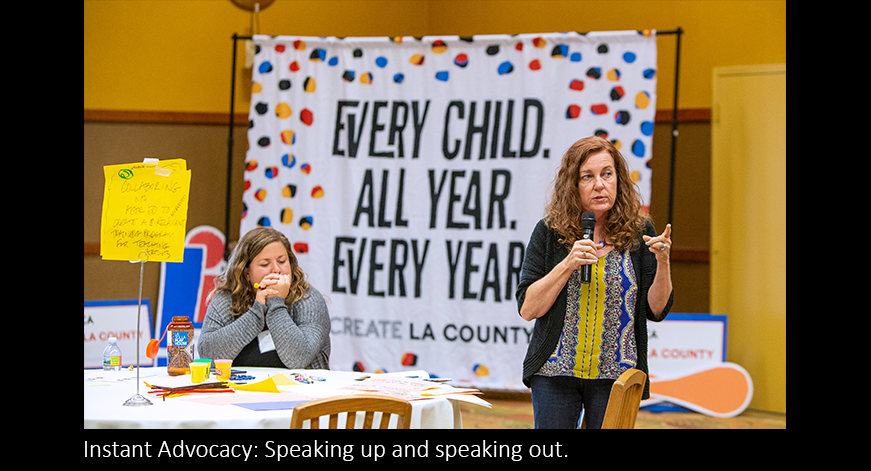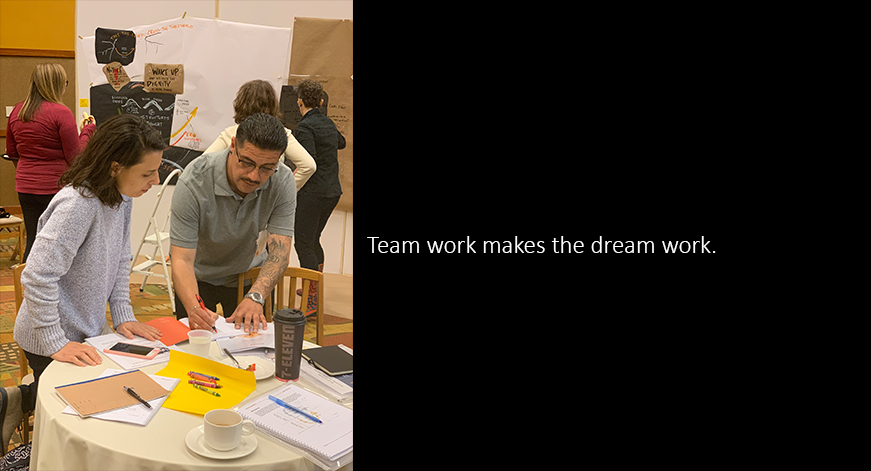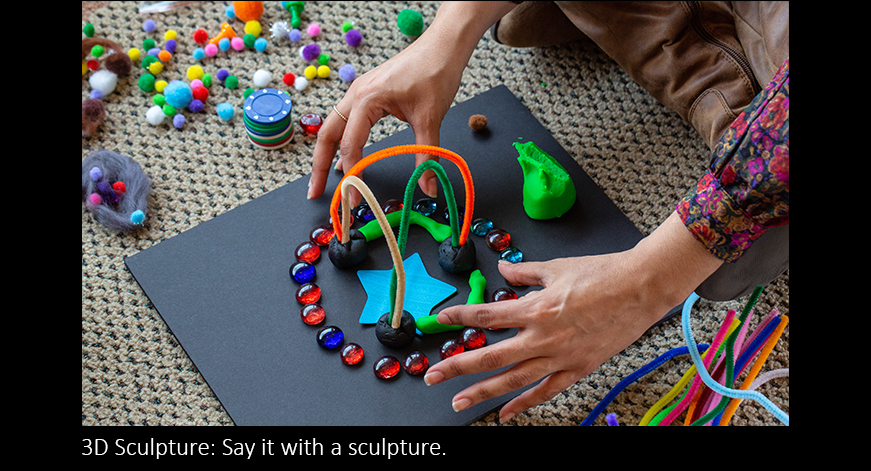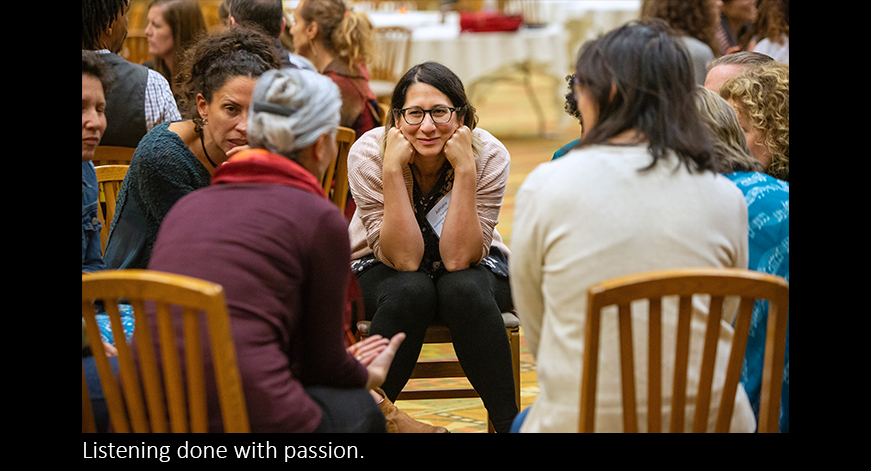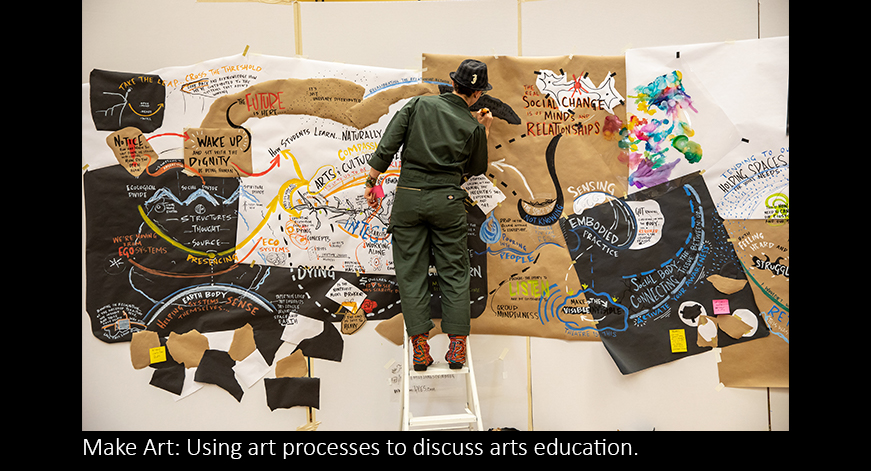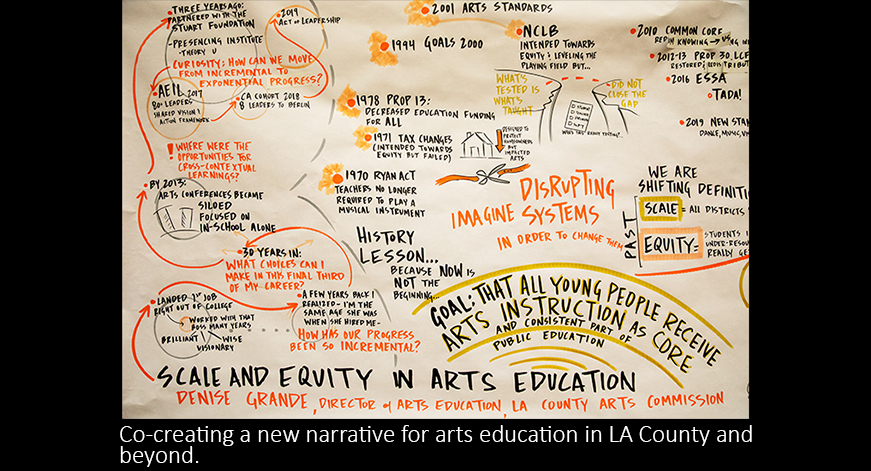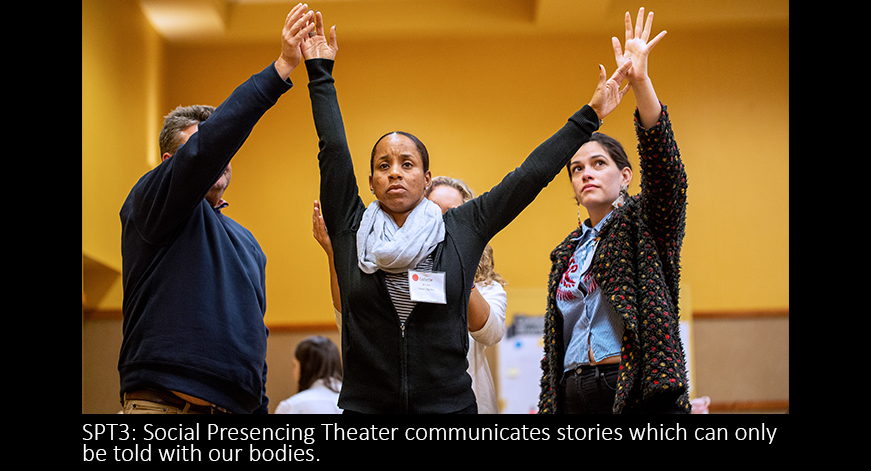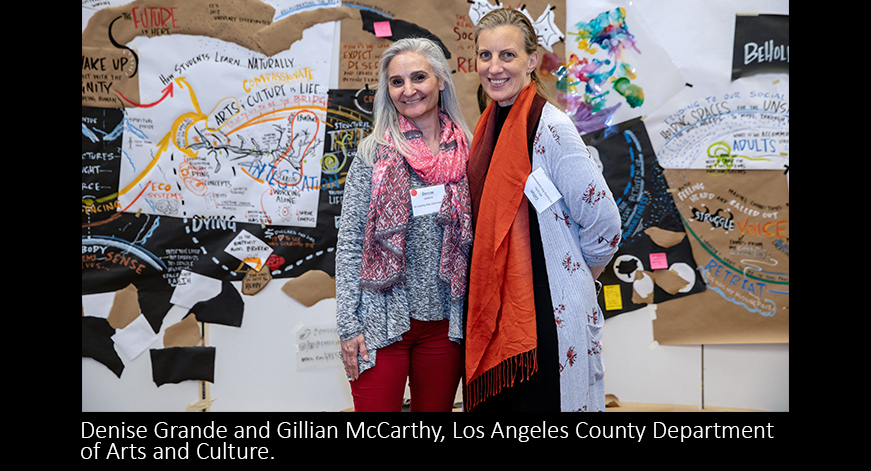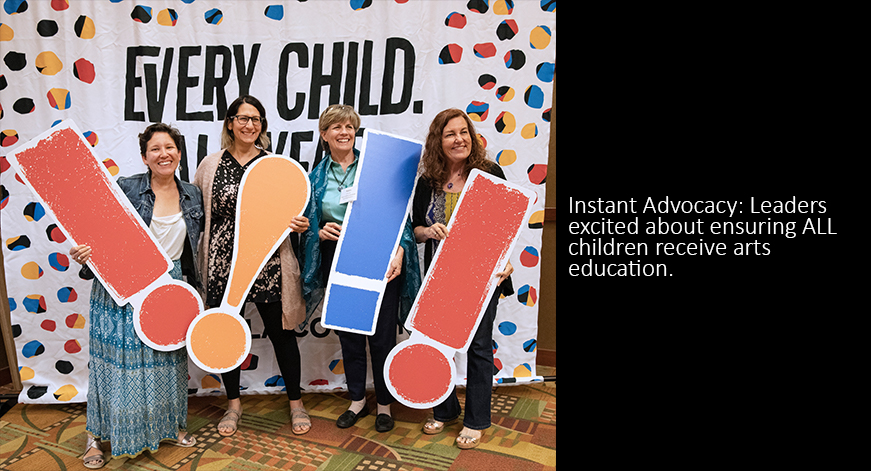 The Art of Leadership training grows out of the LA County Arts Education Innovation Lab (AEIL), which began in 2017 as a quest for new approaches that could propel the arts education field forward, disrupting longstanding patterns of incremental progress to achieve exponential change. Innovation Lab participants worked on solutions for achieving the shared goal that all 1.5 million public school students in LA County engage in the arts – all year, every year – as part of a well-rounded public education.
The 2017-2018 AEIL brought together nearly 80 LA County arts and education leaders – and a handful of state representatives – in a strategic visioning process to reframe the field's challenges and reimagine potential solutions using a Theory U lens. The cross-sector leadership mindset espoused by the AEIL draws insight and expertise from within and beyond a given sector, creating space for many voices to speak and act on behalf of their communities. To date, the AEIL has produced a Framework for Action and launched more than a dozen prototypes to test new approaches for scaling arts education across the County.
In 2019, the Arts Ed Collective launched The Art of Leadership with the aim of surfacing and recognizing new definitions of leadership in arts education. Redefining leadership means moving beyond diversifying the field as it relates to demographics and includes shifting and broadening power. The program looks to minimize hierarchical structures and helps participants arrive at definitions of leadership beyond titles, responsibilities and compensation. In this frame, individuals participate as leaders at all levels of experience through opportunities that emerge from the Arts Ed Collective's initiatives and partners.
The Art of Leadership series is co-designed in partnership with the Presencing Institute and uses Theory U as its foundational framework. The Presencing Institute partners with organizations worldwide to co-create capacity building and action research programs with the goal of sparking profound societal innovation and change. Theory U, which was developed by the Presencing Institute at MIT, seeks to address the challenges of systemic change by encouraging people to open their hearts and minds to new forms of sustainability, equity and health within organizations and public spheres. 
Is there a cost to the program?
No, there is no cost to participate in the program.
Will there be stipends made available for participation?
We understand that the extensive time commitment required for participating in this program may be challenging for some individuals. We will be providing a limited number of stipends. To determine if you are eligible, complete Question 8 of the application.
I am a practicing Los Angeles-based artist though I am not an arts education professional. Am I still eligible for the program?
This program is designed to include the broad spectrum of individuals working in arts education, including artists who provide education to youth and adults in communities, as well as those who work within traditional school environments.
Did you have any tips for applying?
Yes! Speak authentically and honestly about your experiences and ideas. We are most interested in the depth and clarity of your responses.