Youth Advisory Council Update [15 May 2019]:
Youth Advisory Council Applicants: Thank you for your interest in the LA County Arts Ed Collective's Youth Advisory Council, and for taking the time to submit your application and letter of recommendation.
We received nominations and applications for many qualified individuals to serve as Youth Advisory Council members. At this time, panelists continue to review applications to determine which individuals will receive further consideration.
We sincerely appreciate the time and effort you dedicated to applying for the Youth Advisory Council. Finalists and waitlisted candidates will be notified of their status no later than Friday, May 17, 2019.
---
Coordinated by the LA County Arts Commission, The Los Angeles County Arts Ed Collective is pleased to announce the formation of a Youth Advisory Council, which will offer young leaders a voice in shaping a new LA County Regional Plan for Arts Education. The Regional Plan will set forth strategies for advancing arts education across Los Angeles County, both in schools and in communities, with a focus on scale, equity and inclusion.
The Youth Advisory Council will be comprised of up to 15 young leaders, ages 18-24, who are passionate about the arts and have an interest in civic action. Representatives from community-based organizations, arts institutions, school districts and institutes of higher education are invited to nominate youth to serve on the Youth Advisory Council and to play a supporting role throughout the project period. Youth may also nominate themselves, but must include a letter of recommendation that describes why they are a good candidate for this opportunity.
Opportunity for Youth
Participate in civic engagement
Develop leadership skills through direct participation in a Countywide regional planning process
Shape the role of youth in the ongoing leadership of the Arts Ed Collective
Become a part of a Countywide peer network of creative young leaders interested in arts education policy and advocacy
Advocate to improve and expand access to arts education and creative careers
Engage in learning opportunities related to arts education policy and advocacy
Receive a $2,250 stipend for participation (based on an estimated 132 hours @ $17/ hr)
Program Contact
Meia Johnson
Program Manager
MJohnson@arts.lacounty.gov
213.273.8334
---
Get Started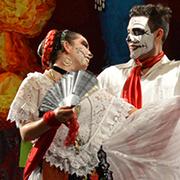 Get Involved
Information for Community Partners interested in supporting in the Youth Advisory Council.