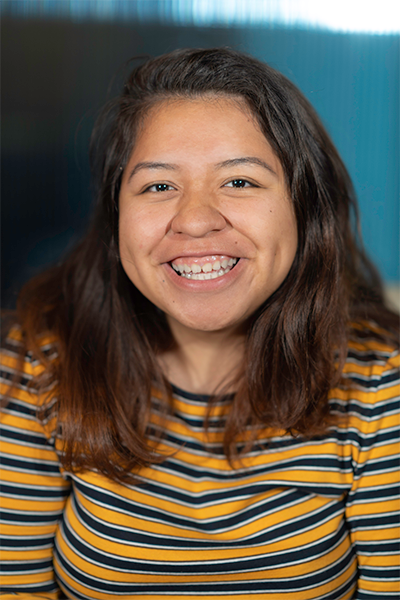 My name is Maritza Lopez, and I am a second-year transfer student at UCLA, pursuing a B.A. in Art History. I am interested in engaging arts in education geared towards individuals across different communities, whether they are currently incarcerated, formerly incarcerated, system impacted, homeless, or have had other experiences that might exclude them from access to the arts.
As a former member of the LA County Arts Ed Collective's Youth Advisory Council, I had the privilege of working alongside many unique individuals from different Los Angeles school districts. I had the chance to hear the personal narratives of those individuals and the impact the arts had on them. In my own life, the arts had a huge impact. When I was 12 years old, I took an elective class in middle school to rest my mind from barriers and challenges I faced. I was trying to understand where I belong as a first generation, system-impacted woman of color. I did not have many role models, in any area, but I especially had few guides in the arts. Because of my own positive experience with the arts, I hope to inspire and create the skills more accessible for all marginalized and underrepresented communities. In fact, one day I hope to work in art spaces and focus on arts in education throughout LA County.
I am currently involved with Bruin Underground Scholars and McKinney- Vento Scholars Program at UCLA. The Bruin Underground program fosters a prison-to-school pipeline by cultivating a healthy community and pathway for formerly incarcerated, and system impacted individuals to thrive in higher education. McKinney-Vento Scholars serve students who are once houseless, currently homeless, or are housing insecure. We aim to foster academic success among McKinney-Vento students by providing community, case management, and support with basic needs. I am involved in both programs because I get the chance to share my experience with students and many more individuals whose identities are similar to my own. I've learned that the challenges we all face are different, but that we can all remain hopeful when we build communities for one another.
I have a personal relationship with incarcerated youth – my sibling is serving time in prison. His experience is further impacted by the COVID-19 crisis we are currently facing. As a direct result of the pandemic, there has been less time to speak to my sibling on the phone, and there is less time for him to go to the prison yard, prison-canteen, and prison-store. He spends 22 hours inside a cell. We talk about lockdowns and social distancing, but for the past eight years, this has been a daily experience for my brother.
It's important to educate others and acknowledge the issue of folks who are currently incarcerated. This pandemic has limited programs and resources nationwide in prisons, including resources that help individuals earn degrees and take courses, opportunities to meet with counselors, and access to programs in the arts. These arts programs should be accessible to youth around LA County, including those who are incarcerated, because the arts can and do change peoples' lives. The arts help us create retention programs that can help individuals find passion, create experiences, find networks, and build career pathways—overall fostering a safe space for diverse individuals from all spectrums of life.
Art and creativity are always a part of my life, whether I am handling social media flyers, co-hosting events, building workshops, etc. I can use arts in a social justice-oriented manner, which helps my mind rest. Ten years after my first experience with the arts, I still have arts incorporated into my life, and I can still see it as a path forward.